Founded in 1987, PROTEK was originally designed for the aerospace industry and military use to keep windows and instrument covers clean and clear. Nelco, Inc. President, Greg Nelson, tells the story…
"I was coming back from Chicago and I met a retired Admiral on the flight. He had a product they used on plastic Jeep windows to keep them from turning yellow. They also used it on plastic strips and refrigerated units to keep them from fogging up. He said it also worked great on glasses. I was in the optical business and he asked me if I'd be willing to give it a try. He sent me some samples and I in-turn distributed those samples to some other people in the industry, people I trusted, who had done some field testing on other products. All of the responses I got back were just dynamite! They had never used anything like it.
– So, I engaged in a business venture with this gentleman and began buying product from him.
Founder, Greg Nelson, at the original PROTEK bottle-filling machine in 1987
Soon after, the Admiral notified me that he was thinking of selling the product to NASA for use on their instrument panels. I changed the formula, eliminating the formaldehyde used in the original formula, and went into business manufacturing PROTEK.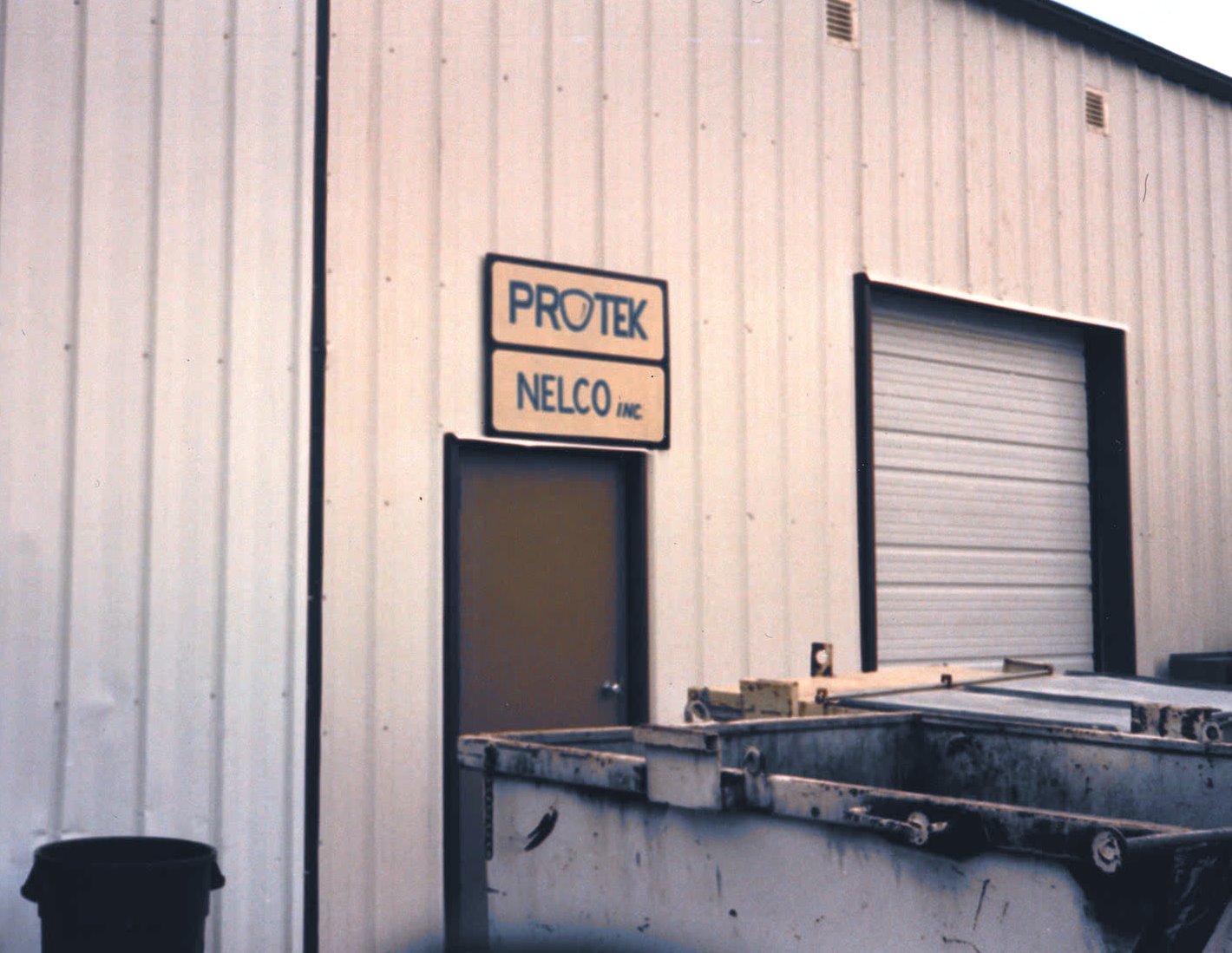 The original PROTEK warehouse at Nelco, Inc. in downtown Fargo, North Dakota
After testing several potential anti-reflective cleaners formulated by our chemist, we felt as though we needed something to really set our product apart. As fate would have it, another biochemist, based in Darwin, Australia, was working on an anti-fog agent for use on military transport vehicles that would keep the windows from fogging up in high-humidity situations. We were fortunate to be able to incorporate the additive in our PROTEK AR Formula to make it truly unique in the market.
I was President of an optical company. My father, brother, two uncles and a cousin are eye doctors. I was basically born in the optical business. I saw PROTEK as an opportunity. Today, we have testimonials from all around the U.S., Australia and Japan."
– Greg Nelson, Founder of Nelco, Inc. and PROTEK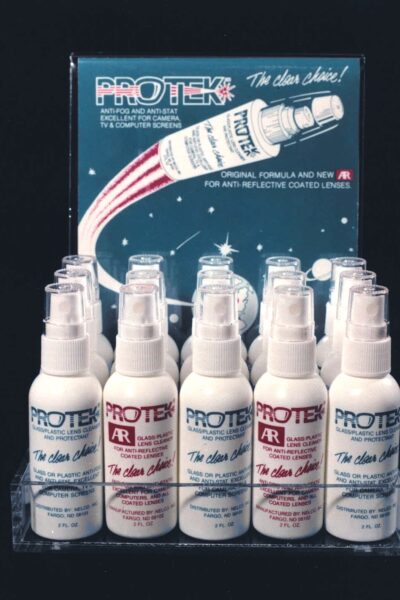 The original late 1980s PROTEK counter display…"The Clear Choice"!
Nelco, Incorporated, and now, NELCO First Aid, Inc. have been manufacturing and distributing PROTEK since 1987.
We THANK YOU VERY MUCH for your continued business and being part of The PROTEK Story!
Kurt and Laurie McSparron, Owners
NELCO First Aid, Inc. and PROTEK, Inc.
701-280-2092 office
701-541-1073 Kurt's cell